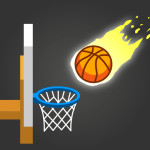 Tap the ball into the air in the game. Tap Tap Shots and hope it lands in the basket. Try to get your ball into the net as soon as you can, because if the timer runs out, the game is over. To increase your multiplier, try to avoid touching the rim. Continue touching the ball to the net after the timer expires, and your score will be added to the leaderboard. This basketball simulation game is great. As you attempt to score as many goals as you can, the basketball will be under your control. You must adjust the distance to stop the ball from being thrown out when it hits the basket. With each click, the ball will bounce higher. The ball cannot be made into the basket if it is either too high or too low for it. You must dip the ball into the two baskets on either side alternately. Each attempt at the basket has a time limit. You have to adjust the ball into the hoop in those few seconds. If you can't get the ball into the goal, you lose.
How to play
To return the ball, tap or click.
We suggest the Bouncy Ball game if you're interested in this game and want to play more games like it. Enjoy!