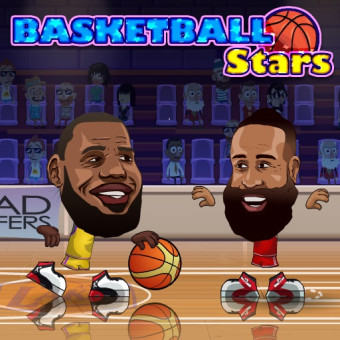 Basketball Stars
Basketball Stars is the most exciting game for gamers who are fans of basketball. Developed by Madpuffers, this game impresses with vivid 3D graphics and the flexibility of the ways to play as well as the upgrade of players.
Basketball Stars is a game that is considered to have detailed, deep, and meticulous graphics. This is especially evident through the clear lines on each player's body and the very rhythmic and flexible hitting actions, just like in real life.
Would you like to play with some true-famous basketball legends like LeBron James, Derrick Williams, and Stephen Curry? With Basketball Stars, you can compete against the greats! This game has two options for all players: you can play a quick match or an entire tournament. Otherwise, you can also play with family and friends in two-player mode or solo in single player mode. It's great to win a medal while playing and see your name appear on the leaderboard!
Features of Basketball Stars
⛹‍♀ Play basketball in an authentic way.
⛹‍♀ Easily choose to play in a tournament or a match of your choice.
⛹‍♀ Online game mode with many different players.
⛹‍♀ Manipulate Dribble, feint, shoot, steal, smash, block... in a powerful way.
⛹‍♀ Gain medals by conquering the extended career mode.
⛹‍♀ There are many famous football teams.
⛹‍♀ Play Basketball Stars for free.
⛹‍♀ More than 60 basketballs can be unlocked.
⛹‍♀ You'll be able to personalize the look of your basketball player by changing the hairstyle, skin color, jersey type, and many other accessories you want.
How To Play
To start the game, create groups so you can play together with friends or play solo in 1v2 and 2v2 basketball games. In addition, you can also play seriously in tournament mode to become a basketball legend.
Each round will last 1 minute, and the main goal is to score more points than your opponent by throwing the ball through the hoop. You can dunk, score 3-pointers, pass the ball to your teammates, shoot, steal, smash, and more.
During gameplay, for simple level plays, all you have to do is use the keyboard to throw the ball into the basket. You try to score as many goals as possible in a limited time. In the 1 vs. 1 mode, you'll have to trick your opponent into thinking you're going one lane, but then swing in the other direction to find the right opportunity to shoot for the basket. On the contrary, when you are defending, you will have to try to steal the ball and not let the opponent throw it.
This game allows you to choose one of the famous basketball stars as your opponent, including LeBron James, Michael Jordan, Dennis Rodman, James Harden, Stephen Curry, Shaquille O'Neal, Derrick Williams, and many more basketball legends! Each player in the Basketball Star lineup has a special ability, so you can leverage the strengths of each of these players to form the team that's best for you.
As you play and win competitions, you will advance from one level to the next to gain new enhancements to your character.
The steps you need to remember are as follows:
Player one
WASD keys or arrow keys to move
X/L keys to throw or steal the ball
S key to smash or block
A+A or D+D keys or left/right arrows twice to scroll through
K/Z keys for long throw
Player two
Arrow keys - Move

L-Shoot/Take action.

Down Arrow - Pump

K-Super shot

Double Left Arrow-Dash
Related games with Basketball Stars
If you love Basketball Stars, try the latest Basketball King 2022. In addition, you can also choose from other basketball related games like Basketball Serial Shooter, Dunkers Fight 2P, Basketball with Buddies, Basket Champ, etc.