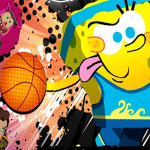 Nickelodeon Basketball Stars 3 is an arcade game with a basketball theme that includes several Nickelodeon characters, such as SpongeBob SquarePants, Lincoln Loud, and Kid Danger. Each of these characters is depicted wearing a huge pair of sneakers on both feet. You first select the character you wish to play as in this game. Then, you will need to use all of your might to help your team win by outscoring the opposition. The left and right arrow keys are used for movement, the up arrow key for jumping, and the spacebar for shooting. Be the victor by throwing more darts in the ring than the opposition! I wish everyone luck!
How to play
Use the spacebar and the arrow keys.
You'll love playing this brand-new adventure game, we're sure of it. To start improving your score and discovering how much fun playing more of our games, like Cannon Basketball 3, can be, you must engage in various sports and challenges. Enjoy!