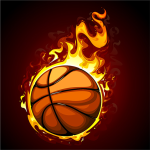 Basketball Shot is a simple but very attractive basketball game based on realistic physics. In this game, you have to make shots with precision. Since the number of basketballs is limited, your goal is to shoot them to get a higher score. With a simple visual style and easy gameplay, this will be a fun game for all ages. Play now!
How to play
The user must touch the screen.

To adjust the power and angle, drag the dotted line.

Give the shot.
You can also check out our other exciting basketball games, like Bouncy Dunk, for free. I wish you the highest score. Good luck!