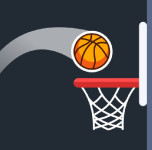 Another enjoyable and free online game that you can play here on our website is called Bouncy Dunk. In order to win this game, you will need to shoot the ball through the basketball hoop while using a paddle that moves back and forth. You gain an additional five points for each star that you collect while playing the game by collecting the stars that appear. As you continue to play, the score will continue to rise. You risk losing a life if you let the balls fall to the ground.
How to play
Mouse to move paddle
Weredle is just one of the many fascinating games that can be found in our Basketball Games category. Have fun!