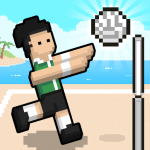 The game Volley Random has two players. You can play volleyball all year round, not just in the summer. You can play either by yourself or with a companion. Choose the desired option, then launch the game. You must be aware that there is a maximum score of 5 and that the player who enters the game first wins. This is a fun game where you play pass with various types of balls. Nevertheless, watch out, because eventually, instead of an exploding balloon, you'll have a bomb. The bomb must detonate on the rival in order to score.
How to play
The game's controls are fairly straightforward: if you decide to play alone, you only need to use the mouse, and if you decide to play with others, player 1 will need to press the W key to toss the arrow up again.
We anticipate that you will have just as much fun, if not more, playing this game. We have many other games, like Retro Goal, that we think you'll enjoy. I hope you enjoy the game.