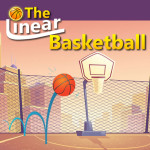 The Linear Basketball is a game in the Arcade category; it is a combination of basketball games and drawing games. In this game, the start screen features a basketball court where you must get the ball into the hoop by drawing the proper line and scoring points. You must exercise caution to prevent bombs from falling on the basketball, and at the same time, there are more balls and basketball courts than ever before. The game's speed increases as time goes on, confusing you more and more.
How to play
Use YOUR MOUSE or tap the screen to play the game!
Would you like to play more basketball? View our incredibly captivating game, Doodle Dunk. Good fortune!