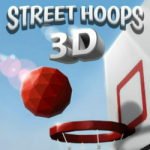 Play this enjoyable Street Hoops 3D game by shooting the ball toward the basket. The game has excellent graphics and straightforward gameplay. Score is your major objective. Attempt to earn as many points as you can. Try to avoid missing the round, as you only have a certain number of balls. Prior to running out of shots, try to score as many points as you can. Maintain your skill improvement, unlock every ball, and astound your friends with great scores. If you miss five shots in a row, the game is finished. Win by proving to everyone that precision is something you truly possess!
How to play
To aim and shoot the ball, use your mouse or finger.
Playing this brand-new adventure game will undoubtedly be a lot of fun for you. To start improving your score and figuring out how much fun you can have playing more of our games, like Boomerang All Stars Basket Zorb, you must take on various tasks and sports. Enjoy!