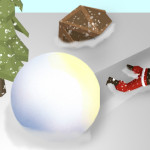 Winter has arrived, making this the ideal time for us to share games like Snowball Destroyer with you. where you will, without a doubt, have a blast. The snowballs won't hurt you or make you wet like they would in real life, which makes this activity really cool and enjoyable. Aim to make a bigger ball every time you play so that it can travel farther and earn you more money. Stimulate!
How to play
You have one meter to throw a snowball in the sand using YOUR MOUSE. Tap whenever you like, but for the best result, aim for the green area.
Visit our Christmas category, like Santa Claus Jumping, to play more entertaining games like this one. I hope your game time is enjoyable and fun!