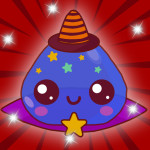 The objective of the idle game Slime Farm is to become the best slime breeder on the entire planet. You gather your dependable vacuum slime into your reservoir in this game, add it to your refinery, and you'll obtain gold. Breed several varieties of slime to increase your income. Each of these slimes features a distinctive and adorable design. In this game, you can raise your production level to earn extra in-game currency in addition to raising your level.
How to play
To open every slime baby is the game's objective. Controls: Swipe on the truck to speed up sales; tap the field with the slices to speed up manufacturing.
If you enjoy this game, consider playing The Besties Tattooist, which is another intriguing game. Players should enjoy themselves, we hope! I hope you enjoy it!