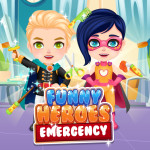 About
We have two funny heroes, a Bug Lady and a Beast Man, to treat and pamper in Funny Heroes Emergency, one of the newest doctor games combined with dress-up games for our website, a combination that we promise will work very well and bring you tons of fun. Only with your help will they be healthy and fashionable once more!
First, you must give the girl first aid using the provided tools and medicine. This means cleaning, treating, and stitching any wounds she may have gotten while fighting a bad guy.
Follow the on-screen directions to use lotions, scissors, combs, and other tools to make the Beast Man clean and presentable once more. The Beast Man needs to be groomed and given a haircut because his hair is very long and he is extremely dirty and untidy.
Finally, you may dress up both heroes in new clothing by mixing and matching the shirts, bottoms, hairstyles, shoes, and accessories available in their superhero closets to create the greatest ensembles that look amazing and are practical for use in battle or for rescuing people.
Start the game right away to get all this enjoyment, and we hope to see you playing here and having fun after that.
How to play
Play the game using the MOUSE.