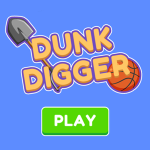 Basketball, one of the most popular sports in the world, is combined with Dunk Digger, an addicting and entertaining digging game. enough hoops for basketball that only the NBA's tallest players can shoot. Why not bury them underground, as it is simpler to dig than to fly? In this physics-based puzzle game, find the sweet places beneath the surface! Make underground passageways such that every basketball on the screen lands in a hoop. To score extra points, collect all of the stars. Utilize your points to obtain fun and unique skins for your basketball. Try to score as many dunks as you can!
How to play
Use a mouse or a touch device to play.
There's never enough basketball to play, right? After then, you can enjoy playing the March Madness game. A wonderful time!