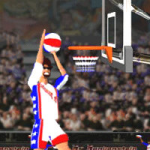 In the thrilling physics-based sports game Doc's Shootout Tourney, your goal is to outscore the other basketball player. This is a basketball shootout event with some difficult competitors that have varying levels of talent, accuracy, and shooting speed. Do you have what it takes to excel at basketball? In this penalty shootout competition, you'll face off against some of the best and hardest competitors to see how accurate your shot is. In order to win this exciting penalty shootout, try to put the ball into the hoop or pass it to Dr. Dunkenstein.
How to play
Play this game by using your mouse.
We suggest trying out our other well-liked game, HOOPS the Game, if you want to have some fun. Enjoy!