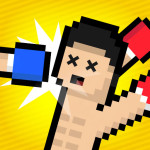 Choose the 1P or 2P option to begin playing Boxing Random. You each have control over a stick-figure boxer avatar that can leap around the ring while one of you is wearing red gloves and the other blue ones. You win if you can maneuver them in such a way that they strike the opposition and take them out. You can suddenly begin boxing in the snow, move more quickly, or even possibly fire rocket punches. Simply said, try to outwin your opponents in more games!
How to play
The W key and the Up arrow should be used.
We highly recommend playing our newest game, Traffic Racer, if you enjoy this one and other entertaining games. You'll always be successful, I hope!