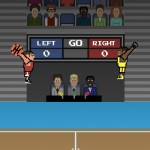 About
our website is the place to go to play the free game Basketball Slam Dunk, which can be found in the Platform Games category of games.
Features: a game mode for one or two players; entertaining gameplay; pixel graphics
How to play
The following keys are used to control Player 1: W to throw the ball, A to move left, D to move right
The controls for Player 2 are:
Up Arrow-To Launch Move Left or Right with the Left Arrow Button. The arrow points to the right.
If you are a fan of the Basketball Slam Dunk, you can look through our collection of free and online skill games by clicking on the Basketball Game button.