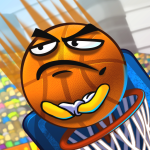 In the adorable puzzle game Basket and Ball, move the ball into the basket. The spacebar is used to jump up and down. To move left and right, press the left and right arrow keys. SPACEBAR, briefly pressed, activates power mode and increases jump height. To complete the level, leap into the basket. In this entertaining game, finish each level's difficult challenges by solving riddles. Remember to gather stars along the way and stay clear of the dangerous spikes. You must continue to bounce around in order to finish every level and earn every star.
How to play
To move and jump, use the arrow keys or touch controllers. To finish the level, move the ball into the goal.
We also highly recommend our other popular game, Spiral Jump 3D, if you're looking for even more entertainment. Enjoy!